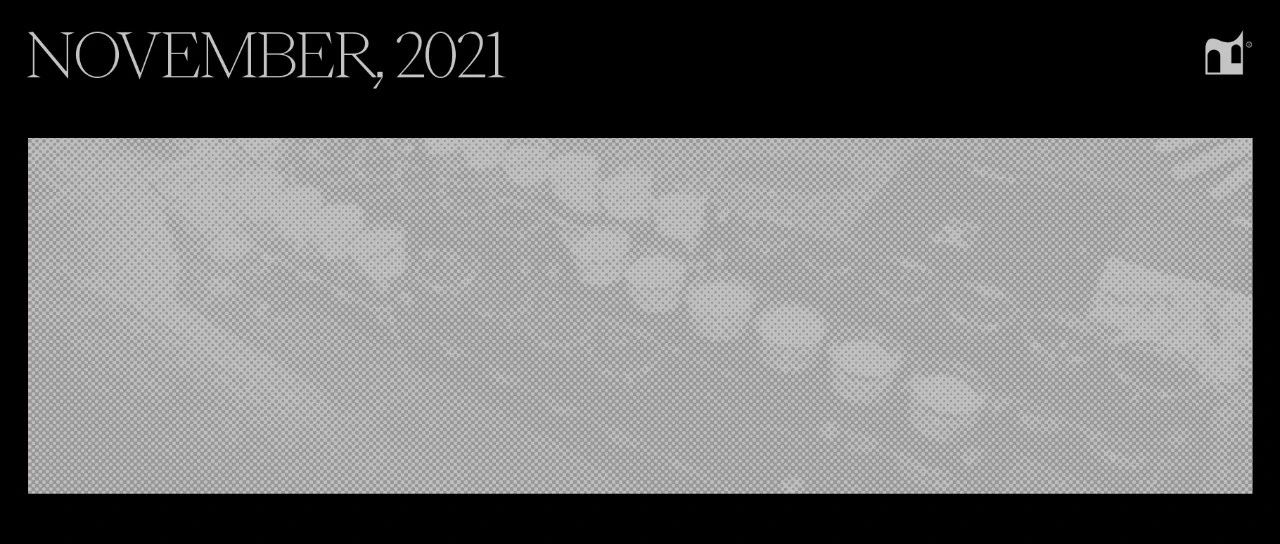 OUR GIGS IN NOVEMBER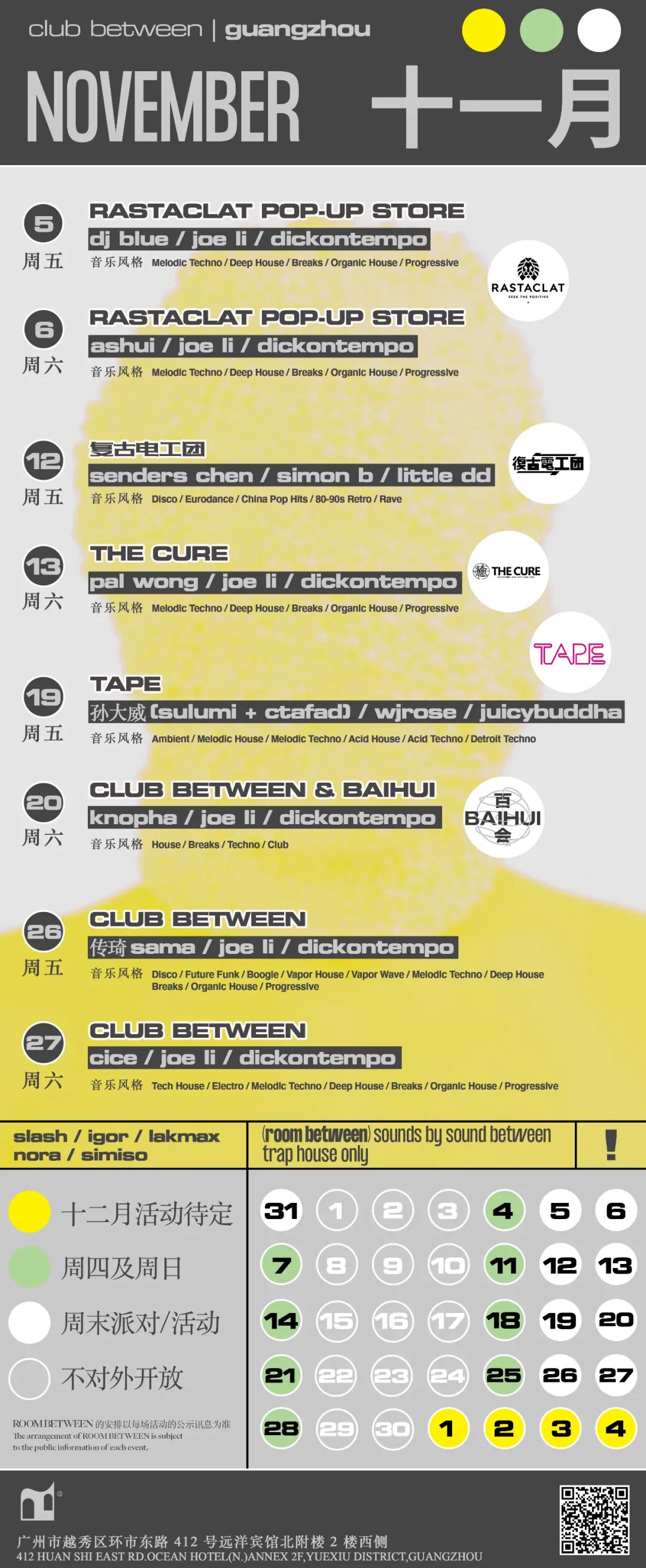 十一月虽然没有法定节假日,与此同时地,源于 2009 年的「双十一」得以成为全国、甚至是全球购物狂们在十一月唯一期待的"节日"。「双十一」固然与我们无关,我们也(应该)不会举办相应的活动。不过十一月同样值得期待,当万圣节在本周日结束过后,下周率先迎来的是来自美国加州的首饰品牌 RASTACLAT,这头与滑板艺术、街头服饰与球鞋,甚至是与音乐相关的狮子将于 11 月 5 日以及 11 月 6 日,一连两天,在 club between 举办其 POP-UP STORE,除此之外,来自成都的 DJ BLUE 将会在 11 月 5 日的 MAIN ROOM 释放她那充满浪漫主义的能量。11 月 6 日,由 ASHUI、JOE LI 以及 DICKONTEMPO 所组成的本土队伍亦会通过 4x4 节拍将此番系列活动推至高潮。
November has no holidays, but "Double 11 Shopping Carnival", which started in 2009, has become the only "HOLIDAY" that the nation and even the world's shopaholics look forward to in November. "Double 11" certainly has nothing to do with us, and we are not going to hold a corresponding event. But November is also worth looking forward to. After Halloween ends on Sunday, next week will be RASTACLAT, a jewelry brand from California. The lion, which is related to skateboarding art, streetwear, sneakers and even music, will come to club between on November 5th and November 6th. In addition to hosting their POP-UP STORE at club Between, DJ BLUE from Chengdu will release her romantic energy in the MAIN ROOM on November 5th. On November 6th, the series will culminate with a 4x4 beat by local teams ASHUI, JOE LI and DICKONTEMPO.
来到第二周,2017 年初创立的派对组织「復古電工团」将新复古派对文化带来必聽,从经典的 FUNK 到 ITALO 再到 SYNTH-POP 以及 EURO DANCE,相信 11 月 12 日当晚会是一场难忘的「锐舞广州金曲夜」。紧接着便是「SUPPORT YOUR LOCAL LABEL」派对系列,耳朵治疗师 DOCTOR LI a.k.a JOE LI 及其派对组织 THE CURE 将会带领大家进行一场循序渐进的心电疗程。
In the second week, "Retro Electrician Group", a party organization founded in 2017, will bring the new retro party culture to the audience, from classic FUNK to ITALO to SYNTH-POP and EURO DANCE. We believe that November 12th will be an unforgettable Rave Golden Melody Night in Guangzhou. This will be followed by the SUPPORT YOUR LOCAL LABEL party series, in which ear therapist DOCTOR LI a.k.a JOE LI and party organization THE CURE will lead a step-by-step Music ECG treatment.
来到下半月可谓是精彩不断,无论是由 TAPE 邀请的大师级音乐人孙大威,还是创立了线上独立音乐平台「百会 BAIHUI 」的 Knopha ,抑或是传琦 SAMA 与 CICE ,一律是您无法拒绝的音乐人。
In the second half of the November, it can be said that there are many wonderful musicians. Whether it is Sun Dawei, a master musician invited by TAPE, Or Knopha, who founded an online independent music platform "BAIHUI", or Chuanqi SAMA and CICE, they are all musicians you can't refuse.
从本周五(10 月 29 日)开始,必聽將进入万圣狂欢周末,在 29 日当晚,西南地区俱乐部代表「VERVO」主理人之一 MAXXI 以及来自昆明的 6DEB 将会为您演奏暗黑且深邃的鼓点音色,准备好在本周盛装出席吧!
From this Friday (October 29th), club between will start the Halloween Carnival weekend. On the evening of 29th, MAXXI, co-founder of southwest club representative "VERVO" and 6DEB from Kunming will play some dark and deep drum & sounds for you. Get ready to dress up and join the party!
RUNDOWN:
(main room)
maxxi
6deb
zito
(room between)
sounds by sound between / rundown: to be confirmed
* 10 月 29 日(周五)门票分为预售票 80 元与现场票 100 元,扫码购票,两个票种均赠送一杯特调。
*Friday, 29th October. Tickets: 80RMB (Pre-sale) & 100RMB (At-Door) | With One Drink.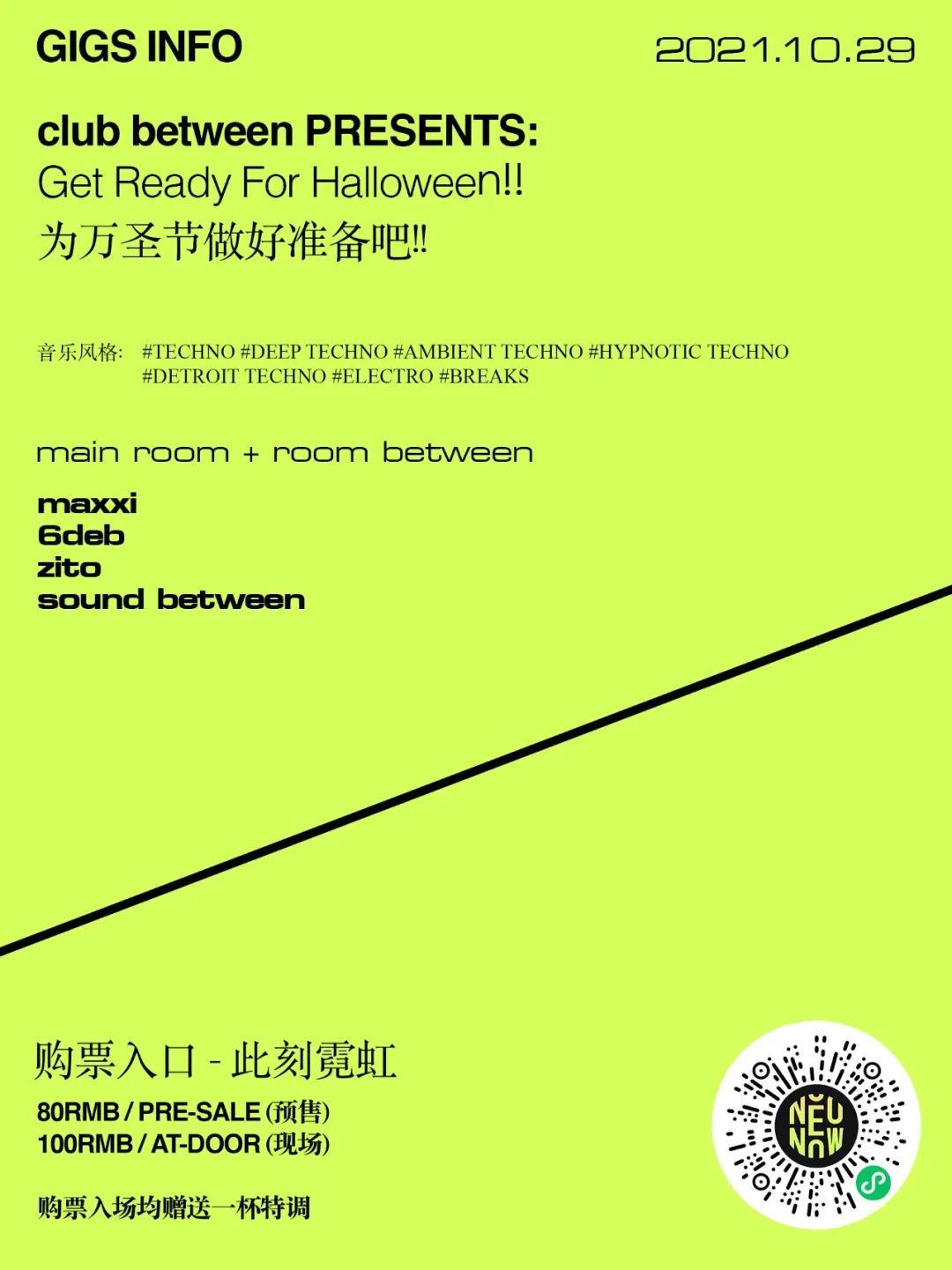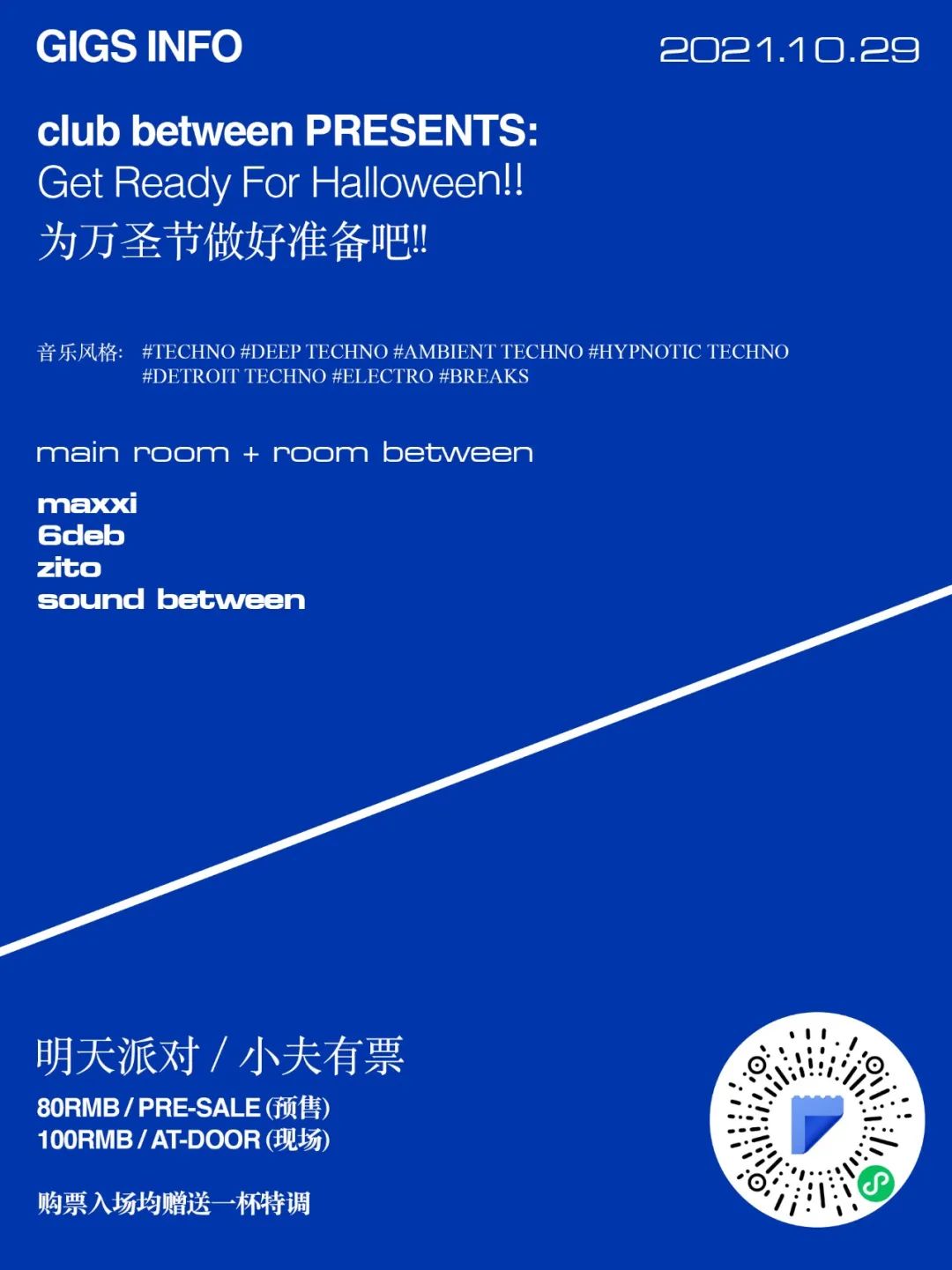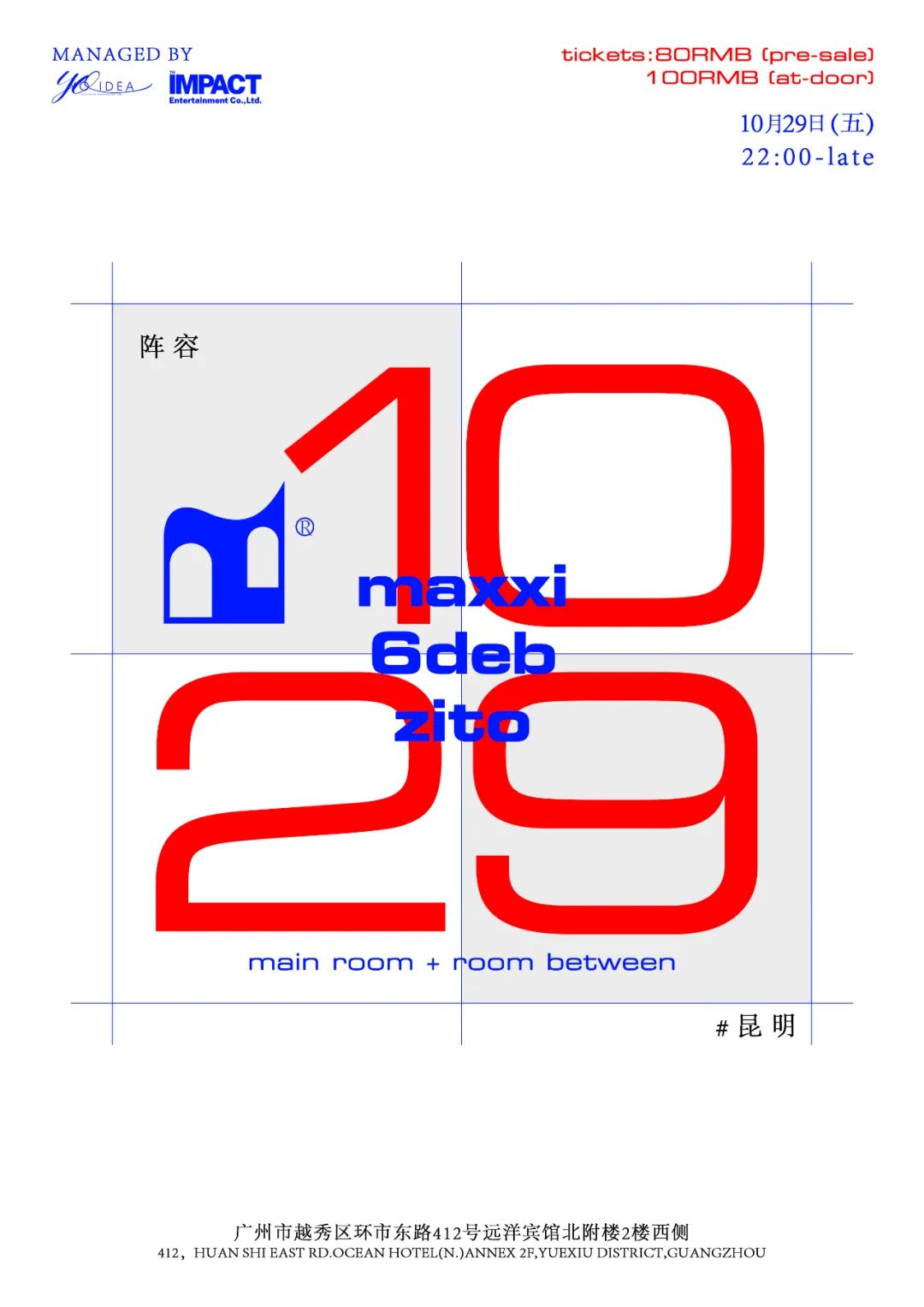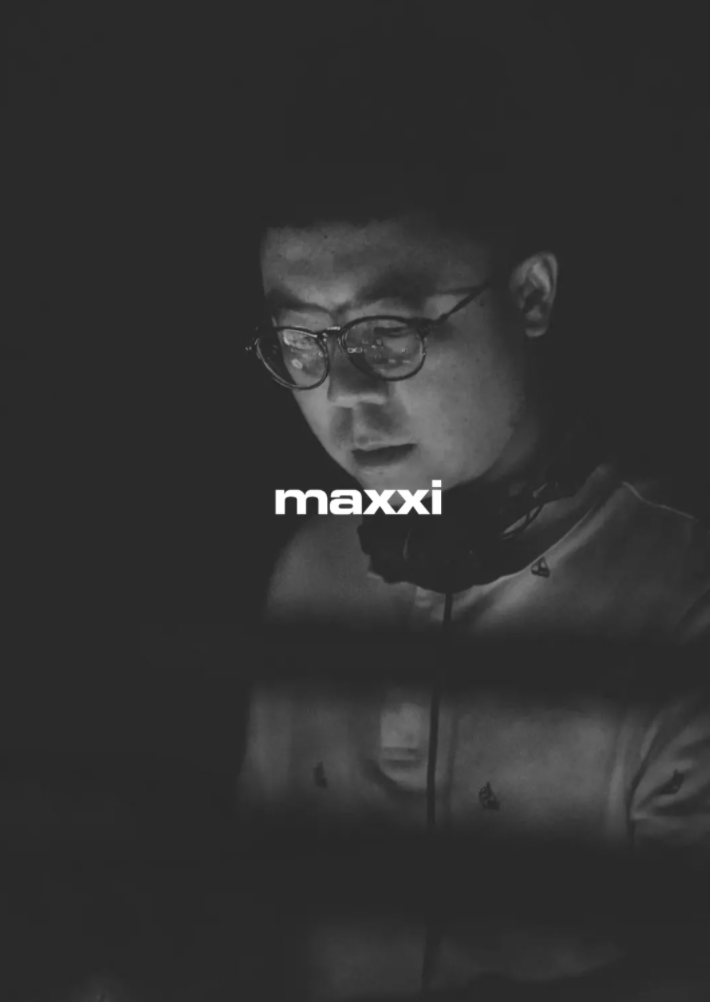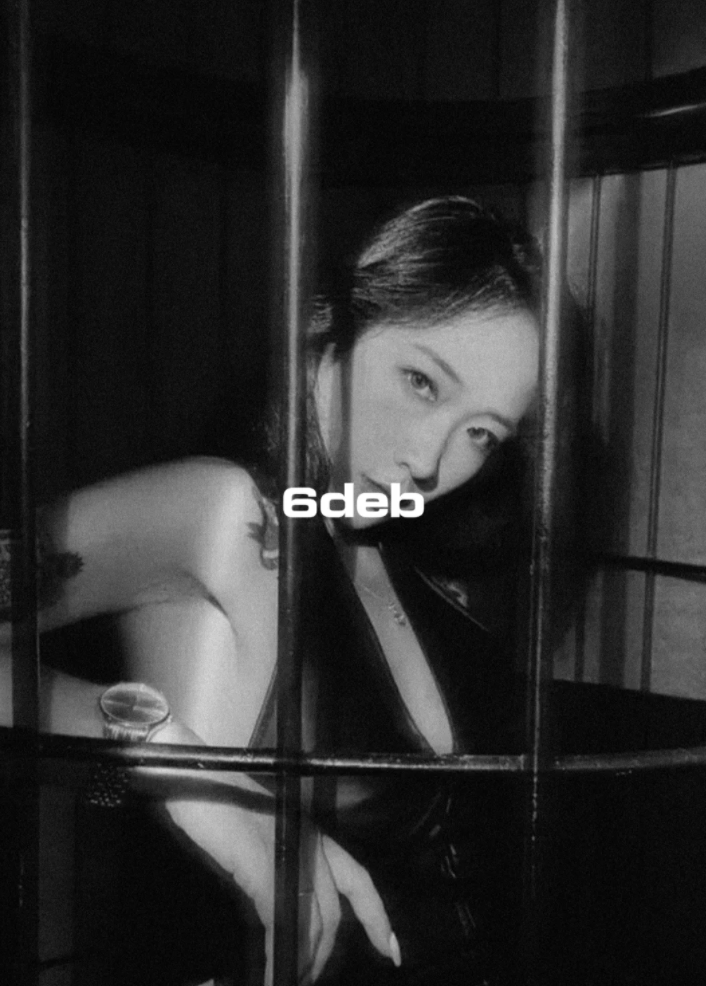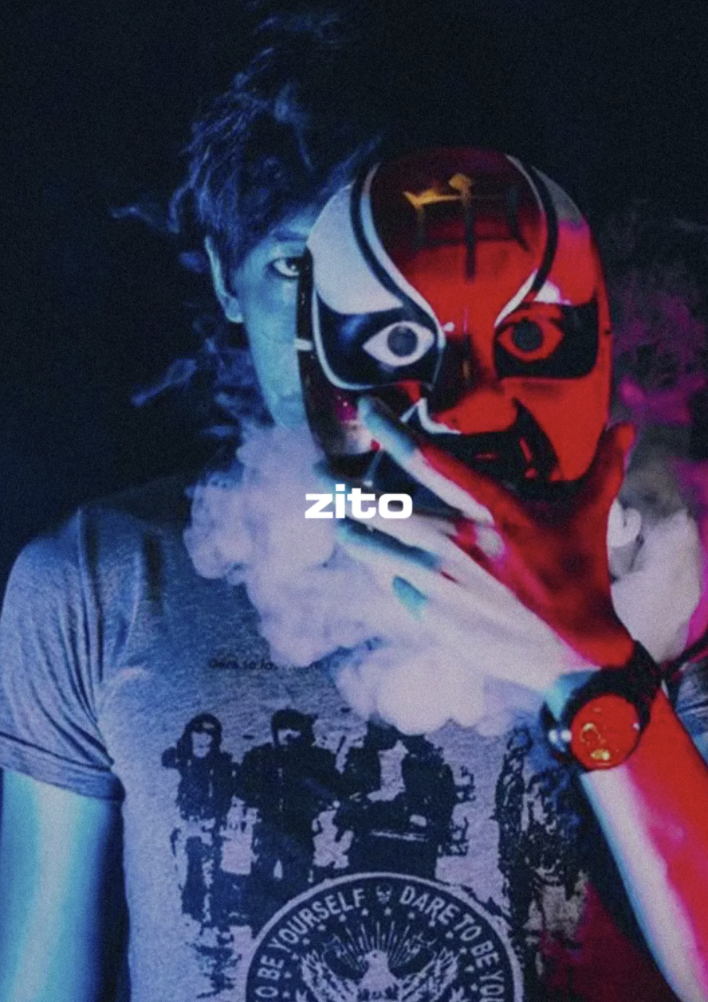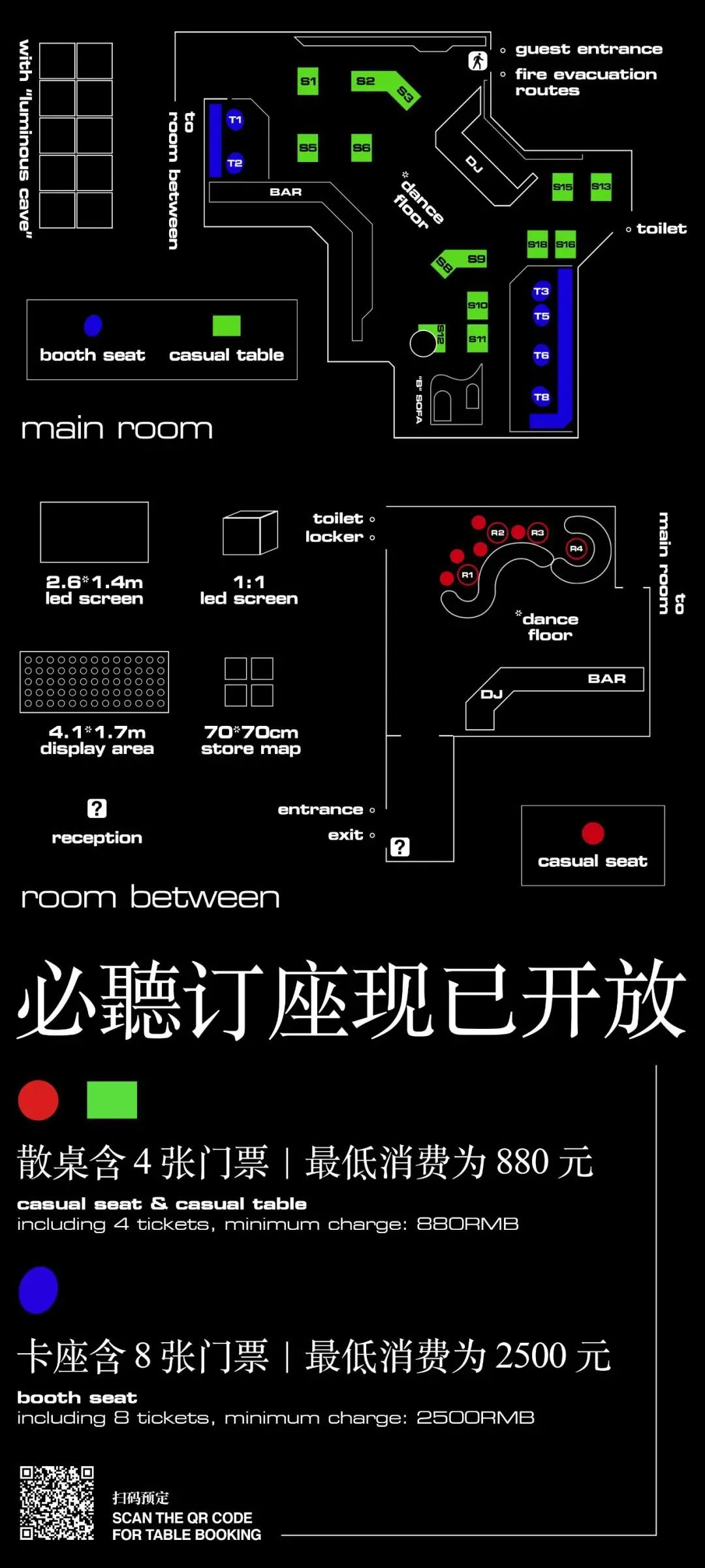 We'll meet you at club between.
Club between
位置:
广东省广州市越秀区环市东路412号远洋宾馆北附楼2楼西侧